Like all brides on their wedding day, I want to be in the best possible shape!  So when I was approached by Aman from Lucid Health and Fitness about trying out the XBody, I was definitely game!

Location: 99 Yorkville Ave (B15) Toronto, ON

Hours of Operation:
Monday-Friday: 5:00am-7:00pm
Saturday: 8:00am-4:00pm (by appointments only)
Sunday: Closed

Phone: (647) 669-7557

Website: http://www.lucidfitness.ca/

What it is:
Lucid Health and Fitness has launched a revolutionary fitness system from Europe in Canada for the first time called XBody. This is an Electrical Muscle Stimulation (EMS) Electrical muscle stimulation suit that you wear, which targets all muscle groups simultaneously. EMS technology is not new; Physiotherapists have been applying EMS therapeutically for decades in cases of muscle rehabilitation.  XBody has simply taken this proven technology to the next level!

Imagine a full body suit that applies the power of EMS across all of your major muscle groups simultaneously while you work out in as little as 20min for a full body workout. XBody amplifies your own efforts. The effect is a better, more balanced workout that accomplishes in only minutes what would normally take hours at the gym. XBody works your core like never before and tones and strengthens all of your muscle groups at the same time. XBody technology has been widely used across Europe since 2010 and is currently distributed across thousands of EMS studios in France, Germany, Spain and 27 other countries worldwide.
EMS full body workout activates over 90% of the muscle fibers at the same time during each contraction. As opposed to conventional strength training, deeper muscles are used, as well, for effective core strength.  Blood circulation in muscular and connective tissues are also enhanced, which leads to firmer, more toned skin. A bonus to EMS is that it is also an effective anti-cellulite treatment, working to positively break down problem fat accumulation in the body.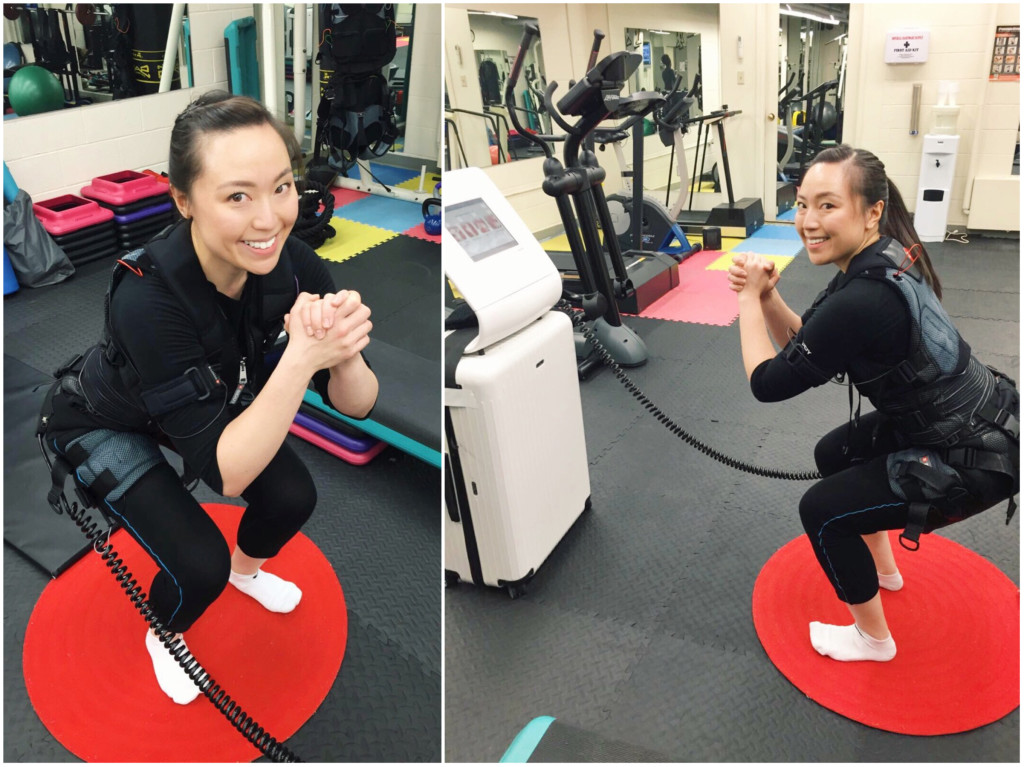 Costs:
Each session is $70.  For a limited time only, Aman is currently offering to all my readers, their FIRST SESSION FREE! That's right!  All you need to do is call to schedule an appointment and mention that you found out about XBody through me 🙂  If you enjoy your first session and want to purchase additional sessions, Aman is offering a special rate of 10 training sessions at $60 per session.

For hygiene reasons, Aman highly suggests her clients to purchase their own undergarments (black top and leggings).  She sells them for $59.  If you do purchase single sessions, there is an option to rent the undergarments at $4 each time.
Review:
When I first read about the XBody, the first thing I thought to myself, "is this safe?" and "how strong are these electrical impulses?"  After further research, I found out that the XBody has been evaluated and approved by the CSA Special Inspection Service as per the guidelines for Field Approval of Health Care Equipment.  Since the XBody uses low-frequency current stimulation it is not dangerous at all.  During the workout, small intrinsic electric pulses initiate every movement and exclusively activate the striated skeletal muscles. Therefore, the impulse does not seem foreign to the body nor reach the organs or the heart.

Not going to lie, I was definitely nervous when walking in.  I did not know what to expect.  But Aman made me absolutely welcome and walked me through the entire process.  After you put on the suit and Aman secures you in, you do a series of exercises Tabata style (i.e. a few seconds "on" and a few seconds "off".)  During those "on" times, the electrical impulses are running through your body.  It's a tingly sensation that makes your muscles contract, very similar to a Dr. Ho machine.  Even though the workout was only 13mins, I definitely sweated a lot.  Also, I am usually pretty good at holding a plank, but wearing this suit, just made it even more difficult and really forced me to correct my posture.

What I liked most about the XBody is that it is a quick workout and you're getting a personal training session.  Aman will assess your tolerance and ability throughout the entire session and adjust the intensity to work all of your muscle groups including the "weaker links" of the body.
Another thing I really appreciated was that there were no pressure on my joints, even when I was squatting.  I tend to have a few knee issues after extensive and prolong exercises that have high impact to the knees (i.e. box jumps, squat and press, etc…).  But with the XBody, I didn't feel pain throughout the workout or afterwards.

After reading more about the XBody, I found two claims that were pretty interesting and wanted to share for those interested. Through multiple XBody workouts: (1) it helps avoid osteoporosis by making the bones stronger so they are more resistant to fractures; and (2) it relieves back problems as there are electrodes built into the training suit along the spinal cord that will work those rarely trained muscles.

Here are some tips based on my experience:
– There's no need to wear your traditional undergarments (i.e. sports bra) because the undergarments offered by Aman are sprayed down with water.  The reason for this is so the electrodes in the suit can better conduct electrical impulses on the muscles.
– Shoes are not necessary
– Always hold your hands together to prevent muscle spasms.  I made the mistake of letting go at one point and when the electrical impulses was "on", both my arms could not move.
Would I do this again? Absolutely!  First off, it was such a quick workout, minimal items required in my gym bag, and I definitely felt it the next day!  This workout is great for people of all skill levels since it is customized to your needs and abilities.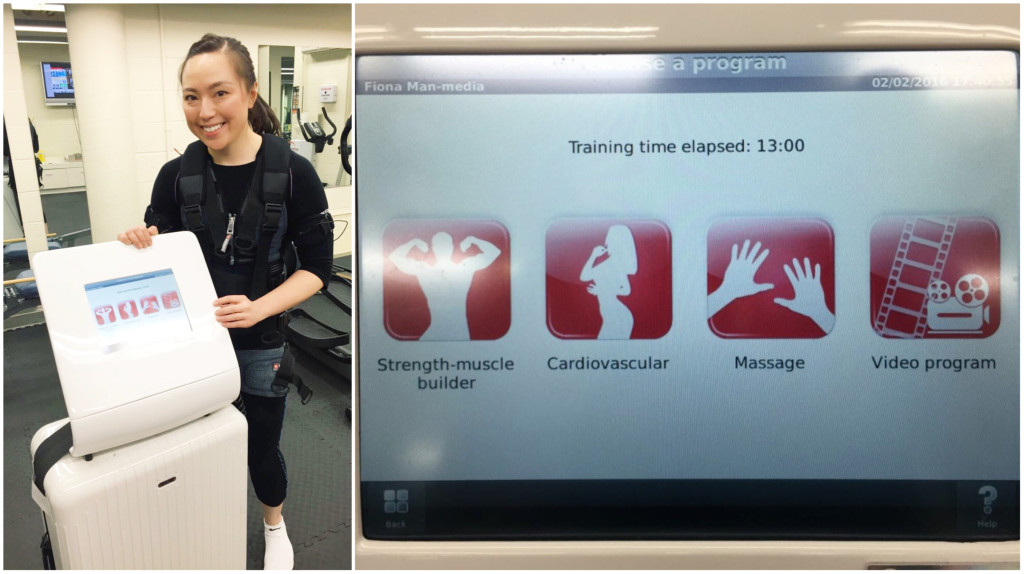 Disclaimer: Training session was provided by a PR Company and Lucid Health and Fitness for review consideration. All opinions are my own and are always open & honest, especially when it comes to fitness and healthy living.