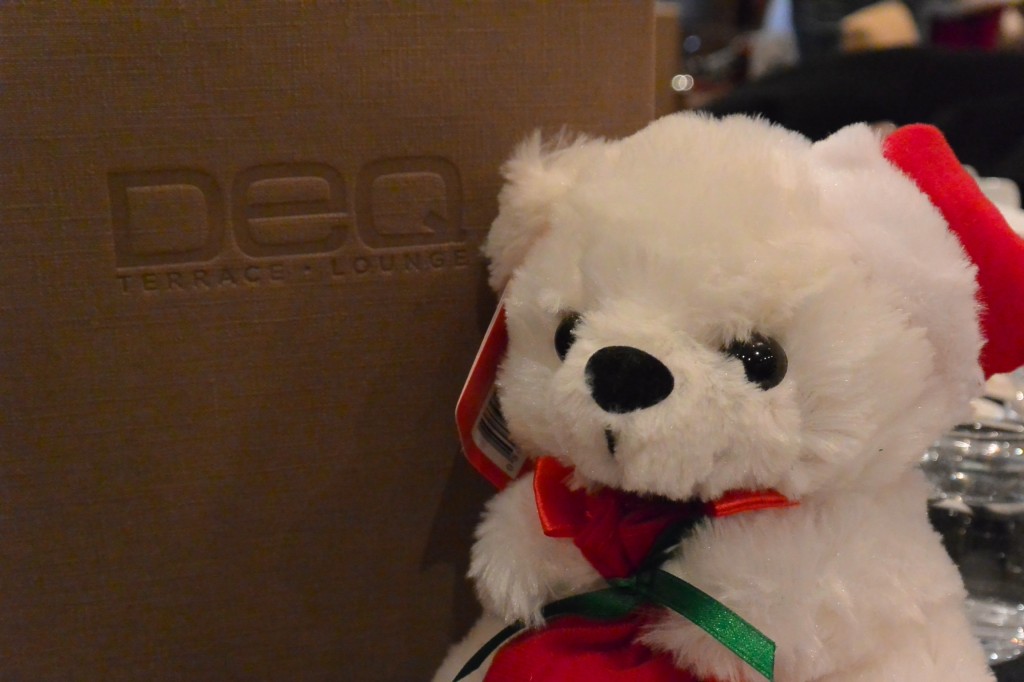 For my birthday, I decided to continue on the "tradition" of going for Afternoon Tea.  After reading countless reviews, I decided to head up to Ritz Carlton as I heard that they took a modern approach to their Afternoon Tea.
[custom_box width="60%" bgcolor="#D5F2B6″ border_color="#3F9F29″ text_color="#3F9F29″ icon_url="http://www.fionaman.com/wp-content/uploads/2013/04/knife-fork.jpg"]RESTAURANT: DEQ Terrace & Lounge ADDRESS: Ritz Carlton Hotel – 181 Wellington St W Toronto, ON M5J 2H5 CUISINE: Afternoon Tea PHONE: (416) 585-2500 WEBSITE: http://www.ritzcarlton.com/en/Properties/Toronto/Dining/DEQ_Lounge[/custom_box] When I entered into DEQ Terrace & Lounge, it was decorated with numerous teddy bears.  Ends up, it was their Teddy Bear Tea.  The Teddy Bear Tea is a bit different than the traditional Afternoon Tea.  For one, the price.  The Teddy Bear Tea is $48 per person vs $38 per person.  Also, there is a larger assortment of fine organic and special holiday tea and you are provided with a glass of champagne (or white and dark hot chocolate for the wee tots.) I've read reviews where you only get to select 8 teas at the traditional Afternoon Tea service.  But with the holiday special, we were offered 12 teas and given ample time to smell the leaves in order to determine  which would best suit our cravings.
Being a lover of Mint Chocolate, it was a no brainer what my choice would be.  Our server kindly poured our tea throughout the meal and even checked frequently to ensure that there was enough water and the temperature was optimal.
As part of the holiday service, we were given glasses of some delicious bubbly.  Definitely was a great way to celebrate my birthday!
The meal was separated by two trays: savoury and sweet.  We were first presented by the Savoury Tray.  While the tray was very different in comparison to traditional three tier tray, it was quite troublesome to take the food out.  You had to use your knife and fork to slowly maneuver the food onto your plate.
The Quiche Lorraine had the perfect ratio between pastry and filling.  The pastry wasn't hard or flakey, instead it just melted in your mouth.
The English Cucumber Pan de Mei is such a simple dish, but it was executed perfectly.  The bread wasn't soggy and it contained just the right amount of dill to make an impact in flavour.
You think that the cheese would be the star of the Heirloom Tomato & Cheese.  Well you're wrong…it was the tomatoes!  The heirloom tomatoes tasted like it was freshly picked out the garden and complicated the robust flavour of the tapenade.
Would does like prosciutto? Especially wrapped around fresh, crisp asparagus.  There was just a thin layer of balsamic cream cheese to prevent it from fighting with the Asparagus & Prosciutto.
The Curried Chicken Salad Bun isn't like traditional chicken salads.  With curry powder infused, this dish packed a punch.  The chicken was fresh and wasn't overdressed with mayonnaise.  To add a bit of contrast in texture, a grape was added.
The Salmon Croissant had to be my favourite dish from the savoury plate. It wasn't the salmon, cream cheese, croissant, or arugula that made the dish.  Instead what really elevated it was pickled onions.  I know…it sounds absurd.  But adding in a few slices of pickled onion into the dish really gave it that brightness.
Next up was the Sweet Tray!
We just had to start the Sweet Tray with Freshly Baked Scones.  Freshly churned devonshire cream and assorted jams were provided.  I think this has to be my favourite scone thus far at an Afternoon Tea.  Scones have a tendency to be heavy and flakey.  This scone was light and airy and didn't make you feel like your stomach was bursting.  Raisins baked into the scone were a nice touch.
Delice is a traditional British dessert where chocolate is mixed with any ingredients like nuts, cream, berries, etc.  In the White Chocolate Raspberry Delice, white chocolate was used and mixed with pistachios and raspberry.  The pistachios added a nice crunch which contrasted the silkiness of the white chocolate and raspberry gelee.
For lemon fans out there, the Berry Lemon Tart is for you!  Encased inside the tart and underneath the fresh berries and meringue, was a lemon curd.  The tartness from the lemon curd contrasted the sweetness of the berries.  I'm not a big fan of tarts as they tend to have thick crusts.  This dish had a relatively thin crust for a tart and was well proportion to the dish.
The Pistachio Cherry Pound Cake was my least favourite dish of the night.  The reason wasn't because of the pound cake…as it was super moist on the inside.  Instead, it was the cherry.  I actually don't like cherries, so it was a bit distasteful in my mouth.
The Armagnac Chocolate Tart is a chocolate lovers dream.  For those that don't know, Armagnac is a type of brandy which complimented the rich dark chocolate.  Since this was a tart, it did have a shell similar in texture to the Berry Lemon Tart.  My only constructive criticism about the dish is to lose the candied orange.  Chocolate and orange do not go hand-in-hand for me.  Because of the chocolate is so rich, please ensure that you are savouring every moment by closing your eyes.
When they used the word crinkle in Molasses Crinkle, I was expecting a soft doughy cookie rolled in sugar.  Instead it was a bit hard.  Nonetheless, the cookie had the right ratio of cinnamon and ginger.  At one point, my Mom thought this was a modern take on a gingerbread cookie.
Last but not least was the Teddy Bear Cookies.  I mean, how can you had a Teddy Bear Tea without cookies shaped like teddy bears?  This was like your standard cookie with cutely piped chocolate to make it look more like a teddy bear.
I think this by far has to be my FAVOURITE place for Afternoon Tea in Toronto!  Service was impeccable, tea selection was great, and I loved the modern approach they took with each of the dishes.  The only thing I would change is the presentation of the trays just to make it a bit easier for the customers to consume the food.
This was a great choice in place to spend my birthday, unlike last year.
On a side note, valet parking was on par with parking rates downtown.  It was $15 and they included a bottle of Eska water in my car.  How sweet!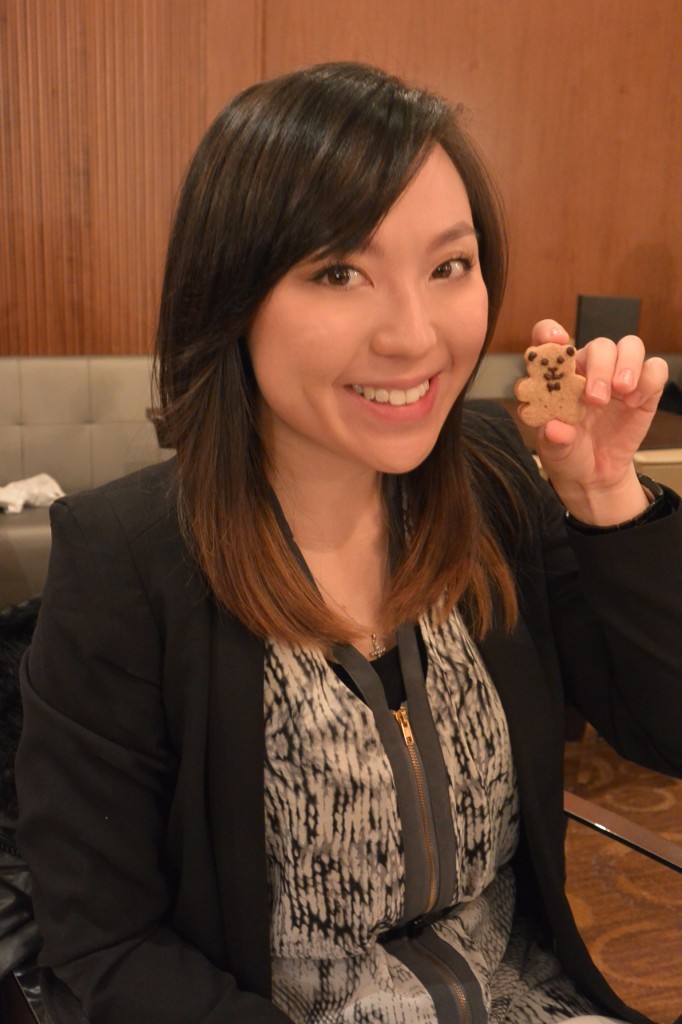 Given that it was the holidays, they commissioned artists to build a delicious replica of the CN Tower and Ritz Carlton.  I swear that I didn't eat some of the buildings to cause the crumbs.  Instead work was still in progress when we attended their Afternoon Tea.  Look at the incredible detail!!  Bravo to whoever constructed this!
If you would like to see my reviews on other Afternoon Tea places in Toronto, here are the links: , as Check out my reviews for other locations that serve afternoon tea:
– Windsor Arms Tea Room
– MoRoCo Chocolat
– Shangri-La Hotel