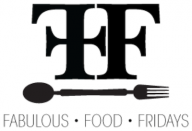 I just want to thank all of my readers for actually reading my Food Friday posts.  Because of you, I got this wickedly awesome opportunity and able to share the love by providing a giveaway!
You might have seen some photos floating around on my Facebook, Twitter, and Instagram accounts, so you'll know what I'm talking about.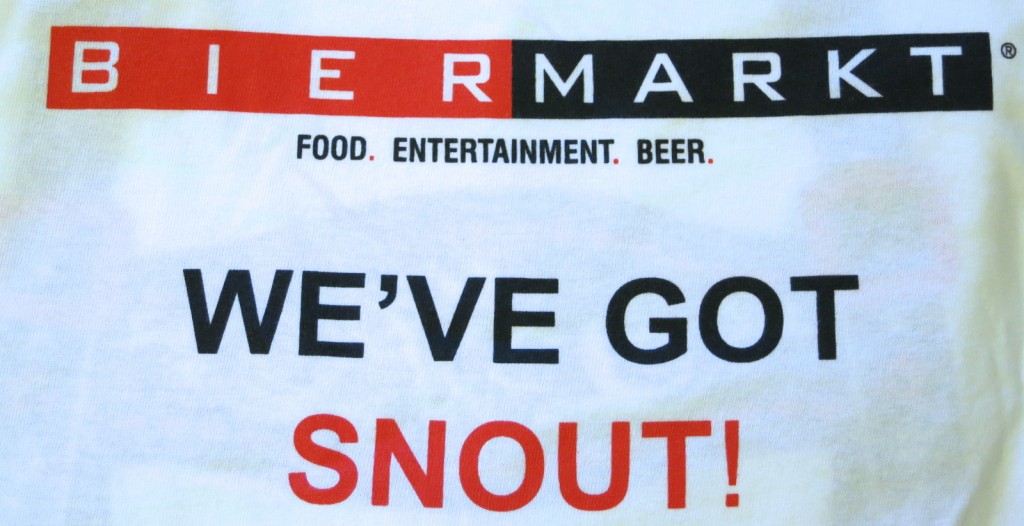 [custom_box width="80%" bgcolor="#D5F2B6″ border_color="#3F9F29″ text_color="#3F9F29″ icon_url="http://www.fionaman.com/wp-content/uploads/2013/04/knife-fork.jpg"]RESTAURANT: Bier Markt
ADDRESS:
King West – 600 King Street West Toronto, ON
Esplanade – 58 The Esplanade Toronto, ON
Don Mills – 7 O'Neil Road Toronto, ON
Queensway – 199 North Queen Street Toronto, ON
CUISINE: Pub Food
PHONE: (416) 862-7575
WEBSITE: http://www.thebiermarkt.com/[/custom_box]
I absolutely am a fan of Bier Markt.  I've been to the Esplanade and King West locations many times for birthdays or just random gatherings.  I definitely prefer the Esplanade location as the space is bigger and there's a live band that performs on a frequent basis.  During Fridays and Saturdays, the live band performs more upbeat songs that you can dance to.  The entire floor turns into a club…definitely not your traditional pub.
Now raise a stein ünd grab your lederhosen for Oktoberfest at Bier Markt Esplanade!
Oktoberfest wouldn't be Oktoberfest and Bier Markt wouldn't be Bier Markt without some BEER (BIER)!   Once again, the genius Nathan Cameron, hand-picked some of Germany's top brews from Hasseröde and Munich, to offer a collection steeped in old and new world brewing traditions.  Please see below for a list of the entire Oktoberfest collection.
Serious Note: Please drink responsibly and don't drink and drive.
Erdinger Weissbier was actually my favourite of the three that I tasted.  It had a very light and refreshing taste which most wheat beers have.  If you're a fan of Hoegaarden, you will like this!  Plus, the cup is a lot easier to hold with one hand.
Paulaner Munich Helles Lager is a pale lager that had a very light yet hoppy aftertaste.  The beer was refreshing, but out of the three, it was my least favourite because of the hoppy finish.
Hasseröder Pilsner Lager is another pale lager.  In comparison to the Paulaner, it had a lighter aftertaste and the head dissipated slower.
At the event, we were allowed to bring a guest.  It was a no brainer to bring my boyfriend…afterall, he's a foodie too!  As I mentioned in my Food Friday post for Fionn MacCool's…to respect his dietary restrictions, I never purposely eat beef or pork when he is around.  I actually told the PR Firm & Bier Markt when accepting the invite and boy were they ever accommodating.
Bier Markt's Executive Chef, Michael Cipollo, came up with this Bavarian-inspired cuisine.  If you weren't familiar with it, majority of Bavarian cuisine is comprised of pork and beef.  This meant that my boyfriend and I weren't able to sample most of the menu items.  We were actually both fine with this and didn't think much.  Bier Markt's General Manager, Richard Beyak, actually came to our table and served us a tray of all their Bavarian-inspired cuisine that didn't contain beef and pork or modified not to.  My boyfriend and I were so appreciative of this and were touched that someone would go out of their way just to ensure their guests would leave happy.  Thank you Richard…your generosity and kindness was definitely a highlight of our night!
Note: Apologies in advance for the somewhat blurry photos.  There was low lighting in the restaurant and I didn't want to blind the people sitting next to us by turning on my flash.
These Bavarian Pretzels came right out of the oven as they were still warm when we ate them.  Because I try to minimize the amount of salt I consume, I felt that there was a bit too much salt.  I actually had to take off half of the salt just to eat it.  Did you notice the size of these pretzels on the tray? They are huge and definitely filled me up!
If you want to try a Germany version of Mac & Cheese, you got to try the Emmental & Grùyere Spaezle. Spaezle is an egg noodle that is very soft in texture.  Emmental is very similar to swiss cheese and has a very savoury flavour whereas Grùyere has a very sweet, salty, and creamy flavour.  So with two cheeses that cover most of the taste spectrum, you're left with a very refined Mac & Cheese that isn't heavy.
As you can tell in the name, the Beef Rouladen contains….beef! I actually was refusing to eat this for a while during the beginning of our meal where we only had beer. My boyfriend told me to try the beef for the sake of the review, so my readers would know how it really tastes.  When the waitress served this to us, I thought the meat would be chewy because it looks cold.  Ends up this was such a delicate piece of meat the just melted in my mouth.  The centre was my favourite as the vegetables were pickled and contained grainy mustard. The potato fritter wasn't too oily and reminded of latkes.
The vegetarian version of the Beef Rouladen that Richard made for us was a pan-seared potato fritter with arugula and goat cheese.  The goat cheese added just the right amount of creaminess to offset any bitterness from the arugula.
A simple yet delicious dish was Gouda and German Mustard (aka Grainy Mustard).  First off, I love cheese.  I'm actually lactose intolerant, but am willing to pop a Lactaid when I see cheese involved! I never tried cheese with grainy mustard before but it was delicious.  The tartness and graininess of the mustard really offset the creaminess of the cheese.
One of my favourite dishes of the night was the Chicken Schnitzel.  The chicken was perfectly cooked and crunchy from the panko crust.  What surprised me most about this dish was how well the lingonberry jam complimented the chicken so well.  It added this sweet flavour that didn't overpower the chicken.
Then it was time for dessert.  Another favourite of mine was the Applekuchen.  I didn't get much of the apples, but it tasted like cinnamon sugar donuts to me.  The vanilla pastry cream was cold and light.  It didn't make the dessert too heavy.
As promised, here's the full Oktoberfest menu with suggested beer pairings:
At the end of the night, we received the best souvenir ever.  Look how massive the beer cup is!  It was pretty heavy in my backpack while walking to the subway station.  Also we got a flag and a t-shirt.  The t-shirt contains a print which looks like I'm wearing suspenders and a brace.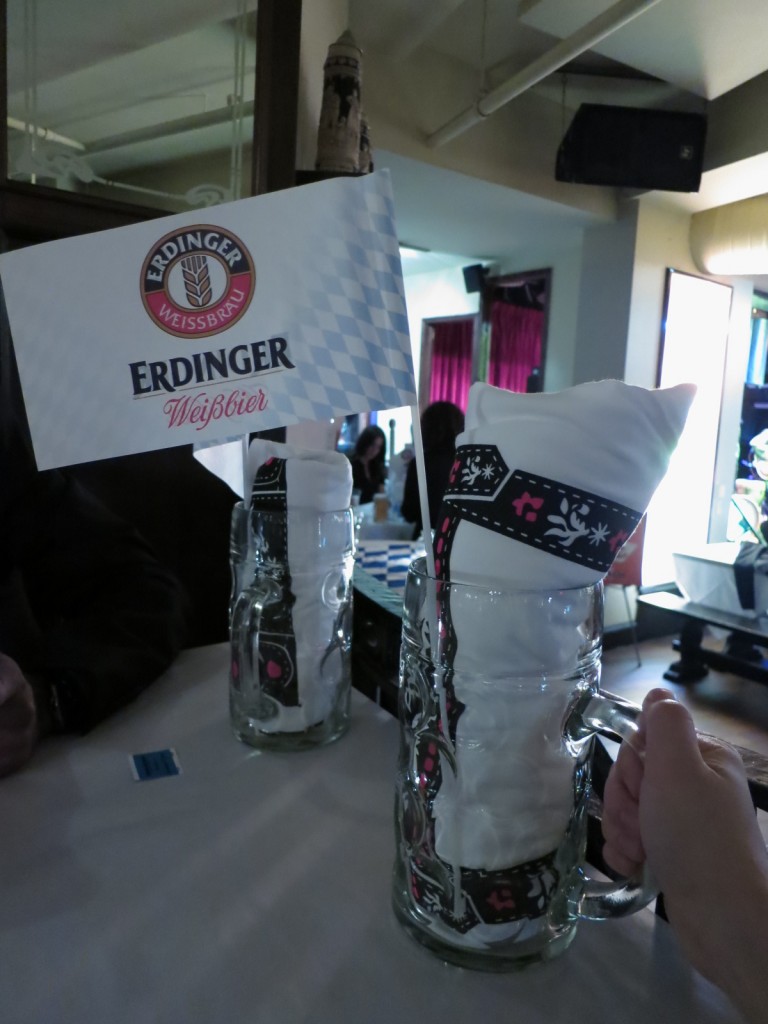 The annual Oktoberfest collection is available now until October 20, 2013 at all Bier Markt locations across the GTA.
GIVEAWAY
Cowan & Company and Bier Markt has teamed up with me to offer 1 lucky reader with a $50 Gift Card to experience the annual Oktoberfest collection at Bier Markt.
Disclaimer: Menu tasting was provided by a PR Company and Bier Markt's for review consideration. All opinions are my own and are always open & honest.