It's been a while since I've last seen my best buddy, Andrea, so we decided to meet up for a romantic meal together.  Originally we were going to go to J-Town for some Japanese pasta but Andrea texted me saying that she had a lack of greens during the entire weekend and would rather eat some salad.  She completely read my mind (like always) because I had a dire need for greens as well.
In comes Urbanspoon, where I search "salad" as the cuisine along with the location.  This is what inspired this week's Food Friday!
[custom_box width="60%" bgcolor="#D5F2B6″ border_color="#3F9F29″ text_color="#3F9F29″ icon_url="http://www.fionaman.com/wp-content/uploads/2013/04/knife-fork.jpg"]RESTAURANT: Rawlicious
ADDRESS: 116 Main St North, Markham, ON L3P 1Y1 – Locations in Toronto, Barrie, Guelph, & NYC
CUISINE: Raw Food
PHONE: (905) 554-4729
WEBSITE: http://rawlicious.ca/[/custom_box]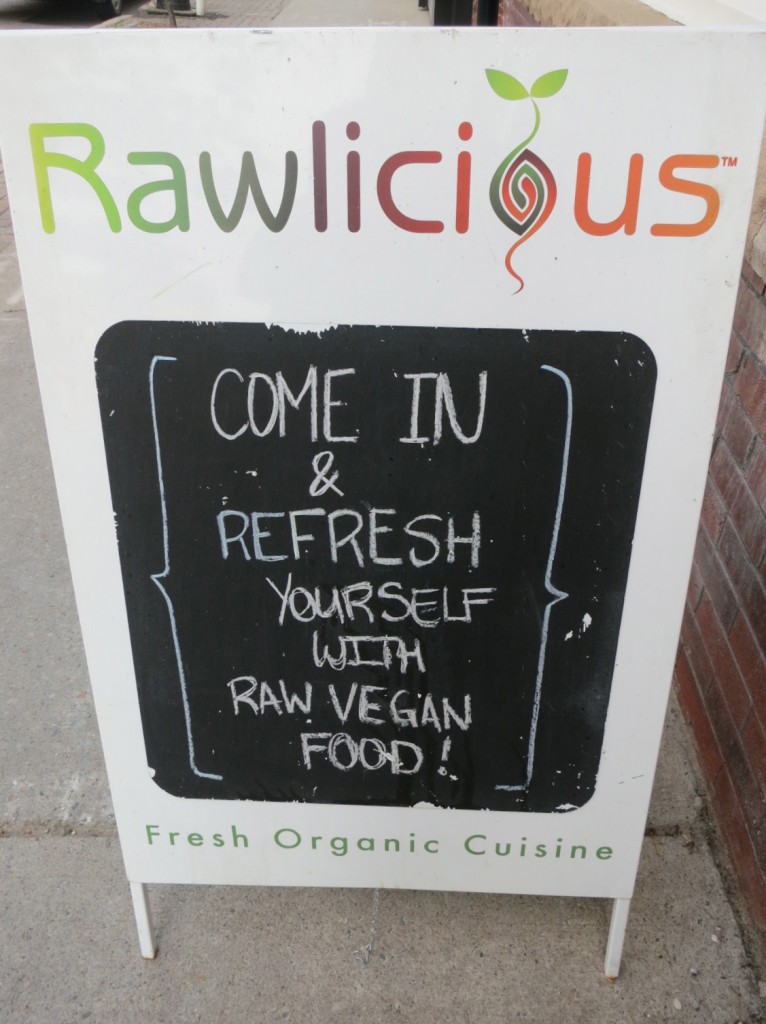 When I was purusing on the website, I honestly didn't take note that it was a restaurant that served raw vegan food.  The menu just made every food item sound so delicious and some of the ingredients enticed me.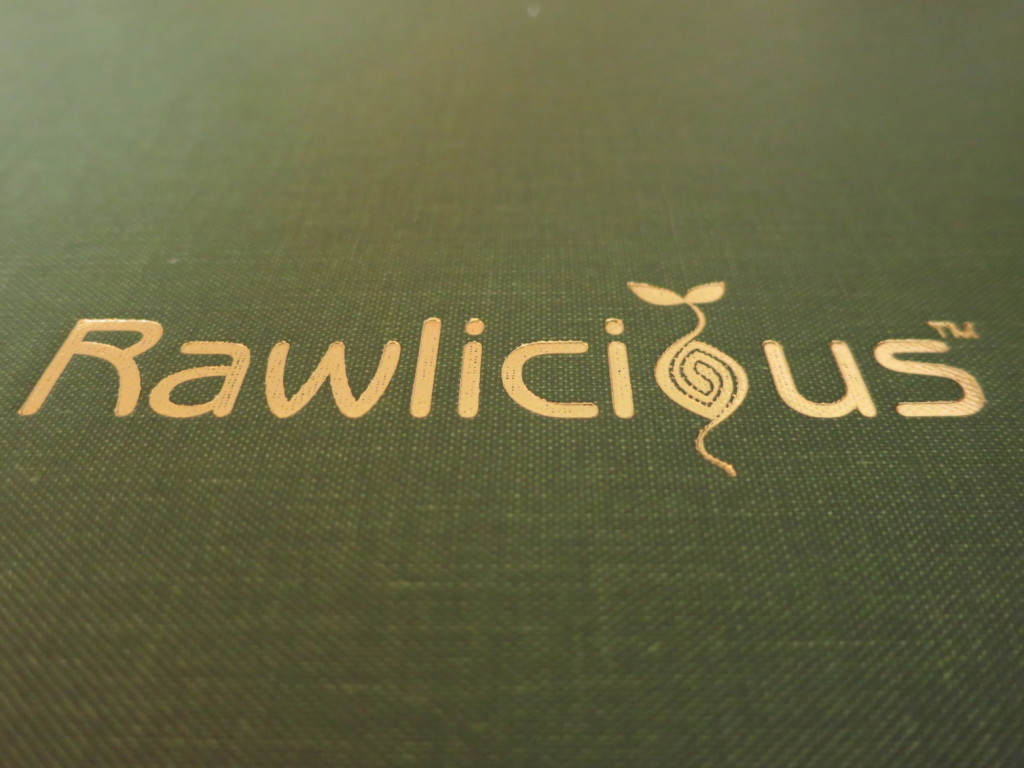 Rawlicious is located at Main St. Markham, not to be confused with Main St. Unionville.  When you enter into the restaurant, a very warm & comfortable environment.  My only gripe about the venue is that I don't think the A/C was working effectively as Andrea and I were both sweating.  But then again, it was 32°C & super humid outside.  The staff was amazing and answered our questions.  They were even patient with us when we were undecided on a few menu items.
We both ordered the Lemon Ice Tea (not pictured) and it was absolutely refreshing on such a hot day.  It's black tea, lemon, and agave.  Using agave was a great choice as it wasn't overly sweet, so you could still taste the black tea and lemon.
Instead of ordering salads, we actually chose items from the Entrée menu since it was comprised of all veggies.
Andrea decided to order the Rawitch.  The concept of "Onion Bread" and a raw food meal perplexed me.  The theory about raw foods is that you don't want to heat it about 118°F/48°C as it will cause the food to lose its minerals, vitamins, and enzymes.  So this made me wonder how they could make Onion Bread with limited to no heat.  The waitress told me it was composed of onions, sunflower seeds, flax seeds, and carrots.  This sandwich is very messy to eat as it's packed with avocado, tomatos, and alfafa sprouts.  So just a word of caution if you plan on eating here for a first date.  The onion bread had such an interesting texture.  It had a bit of crunch to it but wasn't overly salty and you could taste the onion in it.  I love avocados, so any food item with it, gets an A+ in my books!  I've never heard Andrea repeat, "mmmm this is so good" so many times in my life.  She really loved the Rawitch and would go back again to eat it.
I decided to order the Pad Thai.  Now don't be fooled.  The flavour is not like traditional pad thai but is inspired by it.  The "noodles" were a combination of zucchini and kelp noodles.  I've never seen zucchini in long strands before and upon further research, they actually used a spiralizer to create.  I actually didn't know what kelp noodles were but decided to order it anyways.  Ends up, kelp noodles are a great substitute for pasta because it's gluten-free, packed with nutrients, and low in calories.  It's comprised of kelp (seaweed), sodium alginate (salt derived from seaweed), and water.  The tangy Thai sauce was actually really mild in the dish and was served cold.  TWhat surprised me was that the kelp noodles had a bit of an elastic texture to it.  he bowl was huge but I didn't feel the need to sleep or overstuffed after eating it.  It was quite refreshing.
To end the meal off, we decided to order a Chocolate Dipped Blonde Macaroon.  Now don't confused macaron with macaroon.  Macarons are meringue-based and macaroons are coconut based.  This macaroon was jammed packed with coconut and wasn't overly sweet.  One definitely satisfied both Andrea and I.
Even though the location was a bit far away for us, it was definitely worth the drive and would definitely go there again.  We actually walked up and down the street after our meal to help with digestion and watch the sunset.  I used to think salad bars were the place to go when you just wanted veggies.  But now Rawlicious has made me aware of that you can have entrées that are all veggies without it being a salad.