It's surprises me sometimes on the opportunities that can manifest from simple tasks like blogging.  Because of all of your support on my Food Friday posts, I received a very special invite in my mailbox which has inspired this week's Food Friday!  If you continue reading, you will notice a very nifty giveaway!
You might have seen some photos floating around on my Facebook and Twitter accounts, so you'll know what I'm talking about.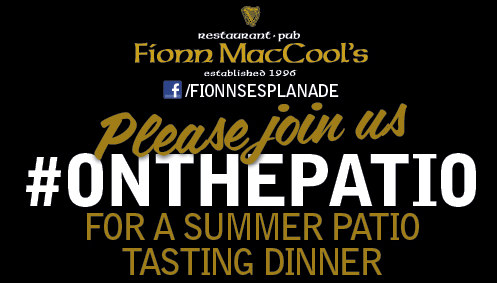 [custom_box width="80%" bgcolor="#D5F2B6″ border_color="#3F9F29″ text_color="#3F9F29″ icon_url="http://www.fionaman.com/wp-content/uploads/2013/04/knife-fork.jpg"]RESTAURANT: Fionn MacCool's
ADDRESS: 70 The Esplanade, Toronto, ON M5E 1Z4 – Locations across Ontario & Alberta
CUISINE: Pub Food
PHONE: (416) 362-2495
WEBSITE: http://www.primepubs.com/[/custom_box]
I always had an affinity for Fionn MacCool's and it's probably the reason that you're thinking…it has MY NAME in the restaurant name.  "Fiona" is actually based from the Gaelic word "Fionn" which means white & fair.  My parents truly chose the right name for me since I'm extremely fair.  Well enough about me, let's get to the event and all of the deliciousness.
We started off the meal with two drinks created by Mixologist Nathan Cameron, Pear & Vanilla Spiced Lemonade and Patio Aphrodisiac.  The mint in the Pear & Vanilla Spiced Lemonade and the Somersby Cider in the Patio Aphrodisiac adds a very refreshing taste making it suitable for patio weather.  You aren't left feeling gypped like you got a watered down drink or cringing with every sip because of the incredible amount of alcohol.  Nathan has created a concoction with the perfect amount of alcohol.
One of the experiences that I really enjoyed was getting to speak to Nathan, finding out how he got into mixology and what his inspiration for these two drinks were.  Plus we had some random sidebar conversations which definitely added a personal touch.
He mentioned to us that cider in mixed drinks is the new trend and he was definitely spot on.  The fizziness in the cider added an extra dimension to the drink, making the Patio Aphrodisiac my favourite of the two.
Note #1: Since this was a menu tasting, the presentation, portion, and plating will be different than when ordering the full size item.  Photos of the full size items are posted towards the end of the post.
First up was the Irish Chip Nachos.  I'm usually hesitant when ordering nachos at a bar because half way through eating it, majority of the toppings will be gone and you're left with a plain tortilla chips.  I hate flavourless chips with a passion.  So I always let my friends eat the chips afterwards.  Chef Bryan Jurek is a genius and found a solution to my problem.  Instead of  using tortilla chips, he created homemade chips tossed in Celtic Sea Salt and vinegar.  So when I finished the toppings, I was completely content with the salt and vinegar chips as I love them tremendously.  The topping was absolutely delicious.  The heat from the hot peppers and spicy mayo wasn't enough to overpower the dish, it was just the right amount.  By adding the aged white cheddar to the dish, it cuts a bit of the heat away.
Note #2: I was allowed to bring a plus one to the event and chose to bring my boyfriend.  To respect his dietary restrictions, I never purposely eat beef or pork when he is around.  I actually told the PR Firm & Fionn MacCool's this when accepting the invite and boy were they ever accommodating.  At first when they served us beef and pork dishes, my boyfriend and I were prepared not to eat it and didn't think much of it.  But the PR Associate rushed immediately to inform us that Chef Bryan specially prepared dishes to meet our dietary restrictions.  Though this may seem small in the grand scheme of things, this personal touch really meant a lot to us.  They really wanted us to get a feel of what the dishes would be like even if it meant substituting the meat.  So in the upcoming photos, you will see captions where it notes the meat substitution.
Next up was the Dublin Street Sandwich with a tomato mint salad.  Normally they use grilled flat iron steak but because of our dietary restrictions, they gave us smoked chicken.  I actually sat in the same table as Cathy, President of Cowan & Company.  We actually chatted a couple of times on Twitter, so it was great to get to really know her throughout the entire meal.  My boyfriend, Cathy, and I were surprised by Chef Bryan's choice of adding mint to a salad.  It added such a refreshing and light taste to the salad.  And we loved how he chose to use whole tomatoes versus grape or cherry tomatoes as it added a real meatiness to the salad.
The sandwich was so good.  The naan wasn't heavy at all.  Usually I detest red onions because of the inherent spice but like the first dish, Chef Bryan found a way around that.  He pickled it!  It took away any form of spice from the onion. The citrus yogurt added a Greek flair to the dish and really made the sandwich in my opinion.  It melded all the components and made this an international dish.
I feel like there's a running theme behind this entire post…Chef Bryan is a genius.  Usually you don't think much about salads at pubs because they are generally pieces of iceberg lettuce with caesar, thousand island, or balsamic vinaigrette.  Chef Bryan has elevated salads at pubs.  The Pear and Pomegranate Salad was absolutely divine.  I've never heard of adding honey and pomegranates to salads so this was a new experience to me.  The pomegranates were juicy and added a nice crunch along with the toasted pecans.  The honey just adds a touch of sweetness to balance out the natural bitterness that comes with spinach.  Let's just say that since pomegranates are in season, I'll be adding them to my salads at work now!
Fun Fact: According to Chef Bryan (and I did mention to him that I would quote him on this), there are between 600-660 seeds inside a pomegranate.  I'm totally going to take up this fact and see if it's true the next time I'm at a supermarket.
Chef Tip: The easiest way to extract the seeds from a pomegranate is after cutting it in half, submerge it in a deep bowl of ice water.  By gently loosening the seeds with your hands, the seeds will float to the bottom of the water and the rest of the pomegranate will float to the top.  Just strain out the bits you want and voila!
This has to be the most moist Lamb Burger I ever tasted.  The lamb itself was so juicy and succulent that the indian spiced braised onion just added a bit more moisture into the burger.  Stilton cheese is an English cheese that is very strong in smell and taste.  It's essentially blue cheese.  I was a bit worried when I saw Stilton cheese on the menu because I was afraid that being so pungent in taste, it would overpower the lamb.  Chef Bryan showed a lot of restraint in the dish.  He added the perfect amount where it was a creamy component that complimented the lamb rather than fighting with it.
The next slider we had were the Grilled Bacon Sarnies.  Fionn MacCool's was so hospitable that they actually substituted the bacon with fish for us.  But from seeing and hearing the reactions from everyone around us, this is a slider for all the bacon lovers.  Personally, I'm not a bacon but the fish with the avocado and onion salsa was like a fiesta in my mouth.
The last protein dish of the night was Steak and Shrimp, but clearly from the photo, it was Chicken and Shrimp for us.  The shrimp was grilled to perfection.  It wasn't overcooked and stringy at all.  The Chimichurri had a very robust flavour and complimented both of the proteins really well.  Unfortunately, because this was a tasting menu, we weren't able to taste the charred corn or fresh-cut fries.
Now for the pièce de résistance…Red Velvet Doughnuts.  Yes, you read that right…red velvet in doughnut form! One bite and I was in love.  Everyone was closing their eyes and saying, "mmm" the entire time.  The icing sugar and melted white chocolate wasn't overly sweet but just enhanced the flavour of the donut.  The outer shell was fried and crispy whereas the centre was very light and fluffy.  It didn't leave you feeling heavy or wanting to sleep.  I could have had a dozen of these while watching the Stanley Cup Finals that night (Go Chicago Blackhawks!)
Thank you Cowan & Company and Fionn MacCool's for inviting me to my first ever menu tasting.  It was absolutely delicious and it was great to really get to know the masterminds behind the menu.  If I had to choose my top 5 dishes to go back and eat (in no particular order), it would be: Irish Chip Nachos, Pear and Pomegranate Salad, Lamb Burger, Red Velvet Doughnuts, and Patio Aphrodisiac.  My boyfriend and I are already planning on going again after June 24th 🙂
As promised, here are what some of the full dishes would look like when you order them:
The NEW Summer Menu will be available at all Fionn MacCool's as of Monday, June 24th.
GIVEAWAY
Cowan & Company and Fionn MacCool's has teamed up with me to offer 1 lucky reader with a $50 Gift Card to experience the new summer menu at Fionn MacCool's.
Disclaimer: Menu tasting was provided by a Cowan & Company and Fionn MacCool's for review consideration. All opinions are my own and are always open & honest.